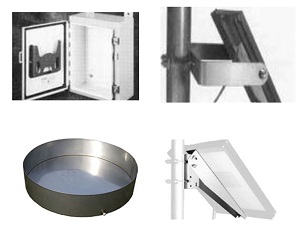 Do you want high quality IP/ NEMA 4X rated outdoor units?
Do you want corrosion resistant enclosures, bodies and chassis?
Do you want salt spray tested equipment?
Are you looking for the " Best Sheet Metal fabricator Near Me " ?
Metafab Engineers manufacture and export high end corrosion resistant, salt spray tested IP/NEMA rated enclosures, chassis, bodies, brackets, pole clamps to protect your valuable Hydrologic, Meteorological and Oceanic Real-Time Data Collection and Control Products, Systems and Software.
Besides these, also contact us for solar panel mounting hardware, Evaporation Pans and other accessories.
Metafab can custom fabricate IP65 / NEMA 4X rated equipment in Stainless Steel (SS), Mild Steel (MS / CRC ), Aluminium or Galvanised Iron (GI ) which can be powder coated or anodised as per your design and drawings.
One of our MNC client provide weather prediction metrological data to different government and private organisations. These organisations run operations in extreme temperatures and want highly reliable Automatic Weather Stations (AWS) to be installed at their locations. We provide various mounting equipments in Aluminium to long last and be rust proof. It reduces the necessity for the client to send its personnels unnecessarily and run huge expenses overall.
The AWS (Automatic Weather Stations ) and other mounting equipments and clamps are fabricated in SS and Aluminium and then either powder coated or anodized as per the colour and specifications of the client.
Contact us now. Fill the below form to know more how Metafab Engineers can be a partner in your growth.