Architects specify stainless Steel for its excellent corrosion resistance, low maintenance as well as for its visual qualities. Good fabrication is essential to maintain these features. Metafab ensures the same.


Metafab is a major manufacturer and exporter of custom Aluminium and Stainless Steel Skirting Boards from India. This is primarily due to our ability to custom engineer steel skirtings as per the clients drawings and specification whether it be the thickness, height or grade as per the site specifications. We are able to adhere to the strict export standards due to our ability to provide on time delivery.
Different phrases are used for skirtings like floor skirtings, skirting boards etc. Stainless Steel skirtings are used in hospitals, Malls, offices, residences and factories. They are ideal for both outdoor and indoor applications especially where there is high usage areas like hospitals, hotels, shopping malls, offices, showrooms, godowns. Compared to Mild Steel ( MS) commonly known as Iron, it is much easier to maintain Steel Steel thus reducing cost and ensuring a long life. Stainless Steel also commands a high after price if and when the products are de-commissioned. It also reduces damage and bumps to walls and pillars where trolleys are used like hospitals, malls and factories besides giving a neat and hygienic look and environment.
Stainless Steel skirtings in different grades like
SS 316 : higher resistance ,compared to SS Grade 304, to corrosion. Especially useful in areas where there are chlorides and other industrial solvents. SS 316 is particulary used in coastal areas, areas with high salinity and industrial applications involving processing chemicals. Due to its qualities, it is highly used in Pharmaceutical and Medical industry
SS 304 : It is the most common used Stainless Steel grade in the world mainly because of its excellent non corrosive nature. The durablity and cost structure makes SS 304 used maximum in buildings, decor and site furnishings.
SS 202 : Most economical variety of Stainless Steel used. The primary difference between Stainless Steel 304 and Stainless Steel 202 is the amount of Nickel and Chromium used during manufacturing
We also fabricate custom Aluminium Skirting and Skirting boards for flooring. This protects the floor and tiles against rough usage.
Aluminium skirting boards are used where there are issues related to conductivity of heat and electricity.
Stainless Steel skirtings are used in areas of heavy and rough usage. Also food industries, hotels, kitchens, malls, hospitals and pharmaceutical industry prefers to use SS Skirting and skirting boards.
We provide Stainless Steel (SS) skirtings and architraves, door panels in different finishes like brush finish, mirror finish, gold finish customized as per the requirement of the Architect, Interior Designer or the final client.
The typical height of a Skirting is 3" or 4" and is in the shape of either "L" with one bend shaped like an angle or "U"/ "C" with 2 bends like a channel. However, MetaFab gives you the flexibility to order in heights as per your taste and requirement.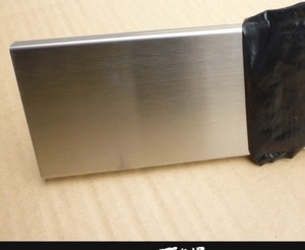 Architectural and Interior Designing articles like trunking, panels, door architraves, perforated sheets, brackets, gates, grills, furniture equipment, furniture legs, side table legs, frames, and other related equipment will be customized as per the site requirements and supplied with a quick turnaround time. Besides Stainless Steel (SS), they can be custom fabricated in brass and copper also.
Stainless Steel Mounting for India's 1st Curved LED screen
The client is into the advertising industry.
Vision: He wanted to monetize a shopping mall's empty space in the atrium and at the same time provide world-class experience to the visitors.
Challenge : The particular mall has a very premium position in the Delhi market. The Atrium is the main centerpiece of the mall. The first floor where the screens are to be installed are curved with different curves
Solution: Metafab in collaboration with the Architect and the Structural Engineer had to fabricate an appropriate mounting keeping in mind that every curve could be different from each other, the premium factor for both the shopping mall and the advertiser and limited time factor.
We were successfully able to manufacture the mounting in SS 304 which is curved, sturdy and yet looks aesthetically well done
Below is the site images of the installation of the mountings